- All the Features You'll Ever Need
- Easy Editor
- Help and Support
- Your Own Domain
- Online Marketing Tools

- Hundreds of templates
- ecommerce
- shopping cart
- links page
- photo albums
- auto responders
- carrier class security
- catalogs
- newsletters
- 2000+ images library
- feedback form
- email
- multimedia video
- free support

"One of the most powerful ways to create a professional looking website."

David Chalk, Chalk TV

"My web site pages are as good or better than some of my friends who are in the same type of business. They also are amazed especially when one considers they paid upwards of $6,000.00 for their sites. No Kidding! Your support is great! My site is great! I am happy."
Dale McIntosh AMJ Funding Group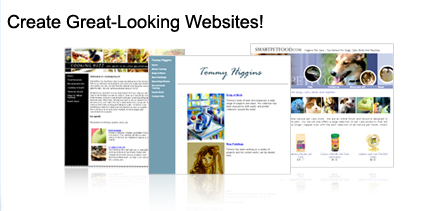 So you're ready to put your personal or business web site on the internet, to take advantage of the huge money-making potential it offers. You may have used other web builders, software, paid your next door neighbors kid to build you a web site, or even tried learning how to program yourself with no success. Well your prayers have been answered
You don't need any design or programming, CSS, HTML experience to use it. Our features are pre-built ready for you to use, right now! If you can type a letter and click on a mouse, you will be able to build a great website. As for the design of your site, we have hundreds of website templates to choose from. Don't see something that you like? We can customize your look of your website.
Web design is so easy with our software, you can fire your current web designer and make your own website using our user friendly website templates and design software.
Clicksoncall.com customers can get access to over one million products to sell at guaranteed lowest wholesale prices that can be drop-shipped directly to your customers. Clicksoncall.com has integrated products from Doba into our application so adding products to your website is fast, simple, and you can start today for FREE!


We understand that starting a new business or promoting an existing one can be challenging - that's why we've included over $450 of FREE marketing credits for every one of our hosting customers!
Marketing and Search Engine Optimization (SEO) Guides
$50 Google Adwords Credit
$60 Yahoo! Search Marketing Credit
Free eBay Integration
Access to all major search engine submission sites
Access and discount on search engine submission tools like Submitnet and HyperSubmit
and many more!